WisSched is a conference schedule app for the WisCon conference — the world's leading feminist science fiction convention. Using WisSched, attendees can review the program and panelist bios, add panels to their in-app schedules or to their calendars, and share panel highlights on social media such as Twitter.
Features
Program Listing
The most straight-forward features of the app is the program listing — a complete list of all program items organized by time period. Attendees can quickly see which panels are in taking place, where the panels are located and which track the event is on. Icons help attendees distinguish different types of events: panels, readings, parties, academic papers, and more.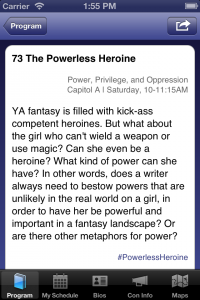 Each program item has a complete description, including links to each individual panelist or presenter. An action icon allows attendees to highlight interesting panels, add them to their schedule or to their calendar. Other actions allow access to Twitter and Ratings.
---
Con Information
WisCon's Pocket Program Book contains many articles that aren't directly related to the program — convention rules and policies, information about affiliated organizations, and details of con services such as the con suite and registration. Each of these many pieces of information has been reproduced in the WisSched app.
---
Programming Grid